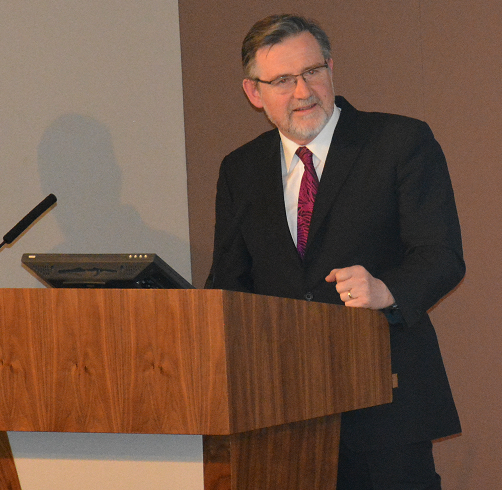 Barry was invited to give the keynote speech at London's Stock Exchange at the launch of the Oil Market Futures report: 
We need to prepare for a profound shift. Build the clean transport systems that the world needs to get a grip on climate change, and we will see reduced oil demand and lower oil prices.
That could bring benefits to non-oil producing economies but we may also see a point at which oil becomes so cheap as to perversely incentivise greater fossil fuel use.
Oil Market Futures analysis found that vehicle efficiency standards implemented globally between 2000-2015 have already prevented the consumption of around 5 billion barrels of oil.
A world where climate policies are being implemented is a world that drives investment into low-carbon technologies.
And that is a world where demand for oil will be significantly lower. 
If we successfully unlock the power of smart innovation to drive more efficient and electric transport, oil consumption could peak, level off and, in less than ten years, start to decline. 
So an effective policy framework to decarbonize transport is vital if we want to cut oil demand.
And the research suggests that could be by as much as 260 billion barrels in total between 2015 and 2050 – with oil prices up to a third lower by 2050 than a business as usual trajectory.
A world run on clean transport will bring multiple benefits: lowering the threat of dangerous climate change, taking action against the silent killer of air pollution, responsible for 52,500 deaths a year in the UK alone. Findings from these reports also show lower oil prices will bring net benefits to the UK, EU and US economies. 
Delivering on our potential for clean transport globally would lower the EU's oil bill by €27bn in 2030, increasing real incomes and allowing for more expenditure on other goods and services that provide larger domestic value-added for the European economy.
These are clear wins. But preparing for a world with low oil prices will not be risk-free.
Particularly when some of those risks are hidden – or willingly concealed. 
Before I became an MP, I ran a company of marine arbitrators here in the city. In business I had two principles: manage your assets and identify your risks. Why would you trust a company that failed to make best strategic use of its assets? And why would you trust a company that failed to identify its strategic risks. If you are on the board of a company that is precisely your legal responsibility.
The stock exchange's own reporting requirements specifically charge companies to disclose all material financial risks. But you can't disclose what you have failed to identify. And you certainly cannot manage risk if you have failed to identify it in the first place. So this is about good management.
Today my message is very simple. Companies need to take note of the Financial Stability Board's preliminary report on the disclosure of financial risks related to climate change. And they need to get ready to implement the recommendations of the second report when it comes out later this year.
Disclosure is the name of the game.
Today's report makes it clear that if we are to succeed in tackling climate change - which we must do - we need to prepare for a world of low oil prices. This means first disclosing and then managing the risks of high-carbon assets in a world of lower oil demand.
Our current systems have shown they're not very good at dealing with volatility and disruptions to oil prices. Falling oil prices since 2014 have created chaos and disruption to global markets. We've seen hasty reassurances undermined by events, and political leaders scrabbling to get a seemingly uncontrollable phenomenon under control.  
This doesn't inspire confidence about managing the risks of a 'carbon bubble'. The risk of high-value fossil-fuel -related stranded assets is a potential financial embarrassment to an individual company. But the potential sudden shocks to our financial services industry as markets are disrupted and major value adjustments are made has the potential to do enormous and irreparable damage to our financial structures.
Of course, and it is worth being clear, the risks of climate change impacts to our financial stability and economic prosperity far outweigh the risks of any individual badly managed low-carbon transition.
Economic modelling published in Nature earlier this month ('Climate value at risk' of global financial assets, led by team from LSE) warned that increased extreme weather events under climate change could cut the value of the world's financial assets by $2.5tn – with a worst case scenario of up to $24trn losses. That's equivalent to 17% of the world's entire assets which are deemed at risk from climate impacts. 
In January, the World Economic Forum said a catastrophe caused by climate change was the biggest potential threat to the global economy in 2016. There is no question about it: Climate change makes business as usual impossible. 
But - hey! Wake up guys. That means it is foolish – and reckless – to plan for business as usual.
Yet that is what oil companies are doing. Looking at BP's 2016 energy outlook, it is almost as if climate change – and the regulatory efforts of 195 countries around the world to stop it – are just bit-players. Using a "base case" for fossil fuel demand that assumes devastating temperature increases of 4-6C this century, BP forecasts an increase in oil demand because of lower oil prices. BP analysts also downplay the potential of cleaner transport and electric vehicles, instead asserting a huge increase in car petrol demand.
BP's chief economist Spencer Dale justified this approach by suggesting that "the mapping between carbon emissions and temperatures itself is highly ill-defined and uncertain thing".
There was a time when I might have said that such a statement was just irresponsible. I now believe that it may indicate a pattern of deliberate misinformation to the public that will one day lead to a successful criminal prosecution against such companies similar to those we have seen in the tobacco industry.
Spencer Dale and others like him need to understand. The low-carbon transition is no longer up for negotiation. The debate has moved on from cynical attempts to undermine scientific consensus.
In December, the world committed to deliver a low-carbon economy. 195 governments agreed to step up national efforts to tackle climate change every 5 years until we reach 'net zero' carbon emissions globally in the second half of the century. Global decarbonisation has been irrevocably fixed as the direction of travel.
The Spencer Dales of this world may not like that. They may actually believe that global climate action is unwarranted and that the best understanding of over 97% of the world's top scientists is profoundly wrong. That doesn't change the facts.
This transition to a low carbon economy isn't confined any longer to conference centres and academic papers. It is now a political fact playing out on the ground. You may not like it but it exists and if you do not manage your assets and identify the risks that it poses for your company then shareholders will quite rightly conclude that you are a badly managed company and desert you in droves.
FACT: Bloomberg/UNEP's 2016 report on Global Trends in Renewable Energy Investment showed 2015 had the highest global investment in renewable energy generation ever, and the $286bn poured into green energy was more than double the spending on coal- and gas-fired power. It also showed that renewable energy investment was mostly in developing countries.
FACT: China alone is expected to add 100GW of new solar capacity in the 4 years to 2020, with its 13th fifth year plan revealing its intentions to more than double its wind energy capacity, nearly treble its solar capacity, and increase electric vehicles by a factor of 10 by 2020 -
Don't forget; in 2015, Chinese EV sales were already 50% higher than the EU, spending 2.5 times more on clean energy than the EU.  
Increasing policies to decarbonise energy will have major implications for oil companies' plans for future growth. 
Today's report shows that the level of demand could make unconventional fossil fuel extraction uneconomic: extracting oil from the Arctic, many deep-water oil reserves and in-situ tar sands would all become unprofitable. I was talking to a group of Canadian business folk the other day and a nice man from Alberta told me that Albertans find the use of the word tar sands unacceptable - they prefer "oil sands".
But I tend to think the word he really finds unacceptable is not tar sands but "unprofitable". What's more I reckon that is the word his shareholders are going to find unacceptable.
And even if we cannot trust oil companies to face up transparently to a future where their current business model becomes impossible to sustain.  It is good to see that major players in the finance community do recognise that change is happening.
Goldman Sachs published a report in February describing coal as in irreversible decline, while JP Morgan has stopped all direct financing of coal mines and plants in OECD countries, putting these coal projects on a prohibited list alongside child labour.
News broke this week that RBS cut its investments in oil and gas firms by 70% in 2015 and doubled UK green energy loans to £1bn a year.
This growing awareness among finance and investment communities is forcing the question on to oil majors' agenda. Nearly 100 shareholder resolutions related to climate change have been lodged with the Securities & Exchange Commission this year alone. This record breaking level of engagement is making climate risk gain traction with SEC as a financially material issue – SEC is starting to turn down oil majors' efforts to exclude climate-related shareholder proposals on the grounds that disclosure to climate risk is relevant to the ordinary business operations of the company.   
This is because disclosure is not just relevant, it is key to managing financial disruption. The world economy is undergoing the largest transformation since the Industrial Revolution, shifting from fossil fuels to a low carbon energy base. We have to be honest and upfront about the scale of the risks we face as part of this unprecedented shift, if we are to manage them successfully.
There is a key role for government to take responsibility and drive forward smart regulation to manage these risks. Profound changes can create both winners and losers. The winners are those who manage their assets and identify their risks. The losers are those who have a short term profit focus - or a short term political focus! - and who get caught short and are unable to change tack before it's too late, too difficult and too expensive. 
As the European Systemic Risk Board warned in its January report, 'Too Late, Too Sudden', a delayed and abrupt adoption of low-carbon policies, at a stage where climate impacts are hitting with increasing severity, would aggravate costs of the transition, writing-off the value of high carbon assets and causing 'contagion in the broader financial system'.  
With our North Sea assets in fossil fuel production, the UK must take a lead in managing transition in an orderly way.  To avoid a continuous cycle of crises for British households and businesses, we need a clear, coherent strategy – did someone say long-term economic plan? 
Last week I attended the World Bank and IMF spring meetings. The message there was crystal clear: the global economy is in trouble and politicians need to boost growth by creating jobs and investing in infrastructure. In particular: investment in energy infrastructure as we move to a low carbon economy. 
I was as amazed as I was delighted to hear Christine Lagarde & Jim Kim both on the same stage tell the world that we need to eliminate fossil fuel subsidies Because they disproportionately benefit the rich rather than the poor. 
Economists and politicians in Washington last week were clear about the vital importance of providing investors with a clear, stable, long-term regulatory framework to develop clean energy infrastructure. Something anyone who has heard me speak on the subject of energy investment at any time over the last 5 years will have heard ad finitum or to be slightly more accurate and self-aware: ad nauseam!
The Paris Agreement sets the global direction of travel. But a failure on the part of the British government to manage this transition in a smooth and orderly way will see the UK exposed to avoidable risk.
Incoherent energy policies under this Government are already hurting the UK economy
Since the election, the Conservatives have cut support for solar by 65% and removed 100% public support for onshore wind. They have cut incentives for low-emissions cars, pulled the floor from under our world-leading research into carbon capture and storage. They have made a coal phase-out dependent on new gas generation, but have failed to incentivise the development of new gas plants - instead paying for diesel, old coal and nuclear that would have run anyway. In short, they have undermined cheap clean energy and failed to present credible, investable plans to guarantee our energy security with new low-carbon generation.
A parliamentary inquiry from the Energy and Climate Change Committee revealed in March that investor confidence in the UK's low-carbon industry has dipped since the Conservative government have come into power.
The Solar Trade Association claims 6000 jobs were lost in the second half of 2015 as a result of cuts to support for clean energy, while DECC's own impact assessment warned cuts to the feed-in tariffs could see over half of the solar industry's 32,000 jobs lost.
Failing to adequately disclose the risks and identify high-carbon infrastructure as a high-risk bet will also see the UK lose out in market share in the global low-carbon race - struggling to regain its place in the top 10 countries for attracting clean energy investment as others accelerate low-carbon policies.
The government's inconsistent approach to the low-carbon transition is creating greater risk. This undermines the great potential for British leadership.
We should be proud of our world-leading mandatory reporting standards for listed companies to take account of their GHG emissions, first introduced in 2013. But as our understanding of the risks posed by climate change evolve, so should our efforts to manage those risks. This means increasing transparency and access to information.
Mark Carney's speech last autumn on the 'tragedy of the horizon' showed the City of London's stake in recognising climate change as the ultimate market failure. It inspired hopes of British leadership acting to limit the risk climate change poses to financial stability, with Mark Carney's chairmanship of the Financial Stability Board mandating a taskforce on climate-related disclosure to report this year. This taskforce's second report will identify the most effective ways for companies to make clear to investors their exposure to climate risk by the end of this year.
As ever, implementation will be key. Legislators and investors have an important role in ensuring national watchdogs and stock exchanges are ready for the results of this task force. We have to pave the way for sustainability reporting to become the new gold standard for financial management.
These reports find low oil prices will deliver a net benefit to the EU and US economies in the long-run. But they also acknowledge volatility and uncertainty along the way.
Today's reports present yet more compelling evidence of the need to manage an orderly transition to a low-carbon economy, navigating volatility and uncertainty to make future-proof choices on investments and infrastructure. The global transition away from fossil fuels is inevitable and irreversible. But the opportunities – and the risks – are all to play for.
This speech was also published in Business Green.